BC Transit v Surrey FC Classics
South Surrey #1
10th. October 2004
Honours even in well fought battle...........



There was nothing to choose between these two old foes as they provided an unusually exciting 0-0 game for the spectators. The Classics were missing several key players due to the long weekend but it was not an excuse as the 13 players who had to work that little bit extra pulled out all the stops and did the business in determined fashion. Both regular full backs were missing and it was strange to see a Classics team without Fisher Crockett in the line up as he had completed 57 consecutive appearances before this game. Larry Thorlakson was moved into the back line as three regular defenders were missing and the Classics leading scorer, Rick Geary, was relegated to centre back. Transit had drafted in new recruits as their anticipated 10 players was bolstered to around 16 as the teams kicked off.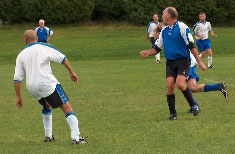 Both teams battled for supremacy early on in the game but chances were kept to a minimum at both ends. The only real goalworthy efforts in the whole game came as follows:
Classics: A powerful shot from Alfie Deglan was palmed down by the Transit keeper, and a corner was headed on by Chuck McGill to Dave Moore who had his headed effort somehow scrambled off the line.
Transit: A second half corner was going directly into the net but Garry Hackel scooped the ball out in a match winning save, and a late header which flashed across the face of the goal and over the line for a dead ball kick.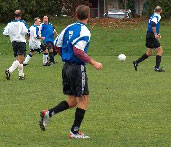 Other than that, the other goal attempts were non-descript. Transit piled on the pressure midway through the second half as the Classics visibly wilted through tiredness and the home side had the better of proceedings, but the visitors eventually found their second wind and never gave up the fight. The Classics defence deserve special mention with Geary and McGill outstanding in the centre as they fought for and won every ball.
The only unsavory incident came when McGill and a Transit forward were ejected for a 10 minute cooling off period after a slight altercation in the middle of the park. All in all it would have been a travesty if either side had lost and it would have taken either a special goal or a bad mistake to win this encounter. As a testament to the Transit defence you need to go back to the summer of 2002 (Britannia 2 Classics 0) to remember the last game when the Classics failed to score in a game. So it was honours even and both teams left with their pride intact.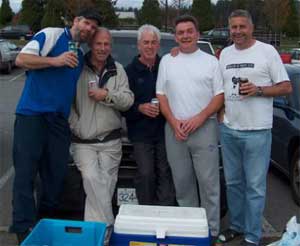 All friends after the game
Final Score 0-0 (0-0)
Stats:
Yellow cards: C. McGill (fighting)
"You Were Crap" award: deferred to next week