Surrey FC Classics v Peace Arch
Newton Athletic #1
13th. March 2005
Classics triumph over 'Arch' rivals........


The Classics entertained Peace Arch on the artificial turf at Newton Athletic Park, a team which have often been a thorn in the side of the Classics. Peace Arch brough out all the big guns for this one and had a very strong line up. The game started as though it had been scripted with the Classics blowing away any possible hoodoo in the first two minutes. A wonderful long range strike from Chris Arcari put the home side ahead and give them just the fillip they needed. Ten minutes later Bruce Cook found himself on the scoresheet after a forward punt from Chuck McGill set up a good interplay which resulted in Cook bundling the ball over the line to increase the lead.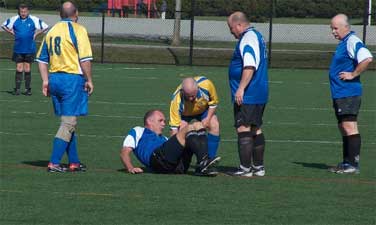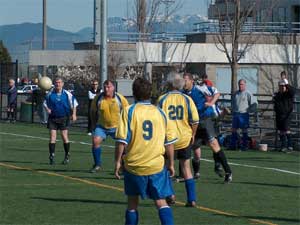 Larry Thorlakson, after the embarassment of having both his daughters witness last week's horror show, was out to prove a point. Pushed up into midfield he scored a great individual goal to make it 3-0 before the half hour was up. It was going to need something of a spectacular showing from Peace Arch if they were to get back into this game, especially against the miserly Classics defence who wouldn't give away a smile never mind a goal.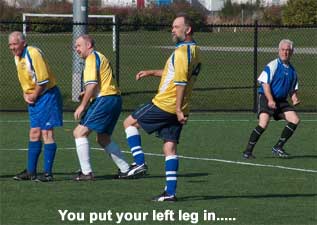 The second half was more evenly balanced but the better of the chances fell to the home side. Mike Snow was guilty of some easy misses (all misses are easy) but the team looked like doing the business once again. Thorlakson was put away on the right hand side some fifteen minutes from the end of the game and his centre-cum-shot somehow curled high and wide of the giant Dave Morrison, who was doing a stint between the sticks, and ended up nestling in the back of the net much to the surprise of the shooter! Tony Short continued his comeback but only played a couple of minutes before having to retire from the game.
It was the match that Manfred Soucker broke Garry Hackel's record of 4 consecutive shut outs by keeping his fifth clean sheet. So it was another vistory and a perfect build up to next weeks visit to McMath Park in Richmond, where the Classics take on the Richmond Pioneers in their last away game of the season.
Final Score 4-0 (3-0)
Stats:
MWG: C. Arcari
M. Soucker broke the record of 4 consecutive shut outs
Team Photographer: T. Short
You were crap award: B. McAuley