Surrey FC Classics v Caribe
Newton Athletic Park #7
14th. November 2004
Classics finally wake up...........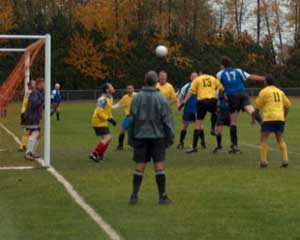 On a rainy miserable day, the Classics started this game as if they were in a dream. Gone was the enthusiasm and forceful play for which they have become accustomed and they appeared lethargic and deservedly went a goal down in the first minute. The dream was turning into a nightmare as Garry Hackel was uncharacteristically caught off his line and was easily chipped to give the visitors an unexpected start.
The bad dream continued and it was Caribe who were doing all the pushing and prodding with their number 15 causing all sorts of havoc in the usually rock solid defence. The hard centered defence had suddenly turned into a box of soft centres, which was more like a Dizzy Box than a Dairy Box. Mike Snow went in accidentally hard on the player causing the problems and effectively put a stop to his havoc wreaking when he had to go off the field injured. He did return to the game but was not as effective so must have been suffering in silence.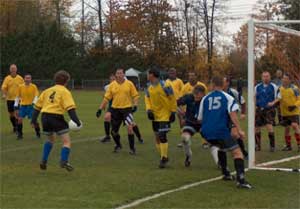 The Classics finally came to life and awoke from the disaster on the half hour mark when Jim Eden sent over a perfect right wing corner and Chuck McGill rose like a cannon ball at the far post to power in an unstoppable header to put the sides level. The remainder of the half was an even affair with the Classics still struggling to find form but at least starting to show some sense of pride.
The game could have still gone either way and if the Classics were to lose their unbeaten record this could be the day, ironically against a team still looking for their first success of the campaign. The alarm clock finally went off midway through the second half and Billy Ranger tapped in at the far post after another precision corner from the left foot of Eden.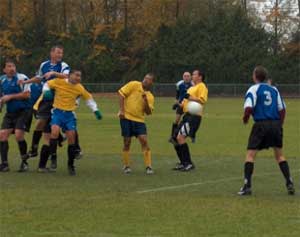 Doug Smith was at his best with some great running and harassing and thwarted several attacks simply by his persistence. McGill was dominating and such was his presence that Ray Marrington just had the simple task of waiting, and waiting and waiting for him to make a mistake. No mistakes were forthcoming and the defence once again looked like the miserly defence which we have come to know and love.
Chris Arcari was showing good leadership and was playing with a passion which was a joy to behold. He deservedly put the game beyond all doubt when he headed in the third goal with 10 minutes to go, a goal which was again the result of another devastating corner from Eden. So another win was chalked up for the Classics but it could have been so different!
Final Score 3-1 (1-1)
Stats:
MWG: B. Ranger
Yellow Cards: C. Jones (fighting), C. McGill (foul), J. Eden (Sin bin - foul)
Club photographer: T. Short
"You Were Crap" award: D. Moore