Classics v Chilliwack
Denny Ross
14th. Feb. 2016
Conditions: Constant rain and mild/cold

Players on duty: Judd Boxtart, Danny Jensen, Pat Rohla, Larry Thorlakson, Gordie Macklin, David Breen, Gene Crowley, Bryan Griffiths, Daryl Lawrie, Chris Arcari, Randy Hosler, Warren Crowley, Pat O'Krane, Will Dixon.

Chilliwack lose tight game .....
This match was not one for the supporters. The first half took for ever to get going and it appeared that the Classics were still suffering the after-effects from last week. They seemed to be anticipating the bounce off the turf as they were just not running into space for the ball. The match was evenly balanced with neither side creating any real clear cut chances. The game sprang to life on the half hour mark when Daryl Lawrie took control. He picked up the ball on the edge of the area and set off on a determined run at goal. He played for, and got, every bounce and his pressure paid off when he unleashed the ball with such vigour that it gave the visiting keeper no chance. Lawrie deserved all the plaudits bestowed upon him by his peers after he scored his remarkable solo goal to edge the Classics ahead. The score was 1-0 at the half but it didn't stop Gordie Macklin giving his, now weekly, pep talk as his colleagues were trying to relax under the tent. That man has more tunes than an ice cream van!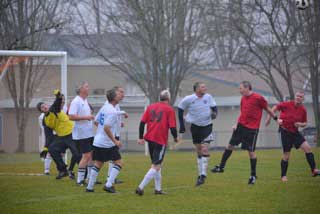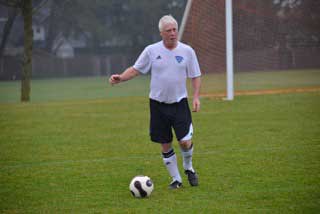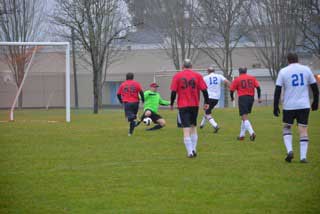 The home side picked up the pace in the second half as they attempted to assert their authority on the game. Chris Arcari was having an outstanding game in the centre of defence - quite an achievement as he wasn't going to play due to the fact that he was suffering heavily from flu. His commanding figure stood out as he barked his orders at all and sundry around him in order to keep goalkeeper Judd Boxtart as a virtual spectator. Macklin was his usual buzzing self while David Breen upped his game a notch to keep the attackers at bay. Danny Jensen and the Crowly brothers were on top of their game as were Larry Thorlakson and Randy Hosler in an impenetrable defence. Billy Willie Dixon, Pat Rohla and Pat O'Krane (pat-a-cake, & pat-o-cake baker's men) were doing their stuff in midfield which leaves Bryan Griffiths who had his best game to date since signing for the club. He was tenacious and his spring-heeled turns left his marker like Bambi on ice on several occasions.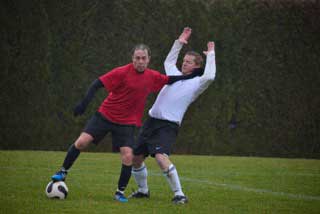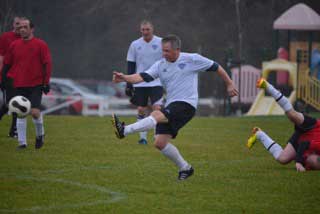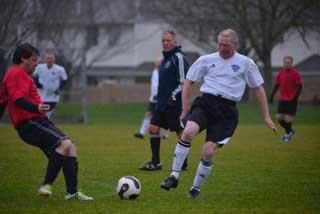 Boxtart was called to action on the three-quarter mark and he sent his left leg at full stretch to thwart a rare Chilliwack attempt on goal. Griffiths' persistence brought its rewards with only seven minutes of the game remaining. It came from a move that he started when he set Lawrie off on a run. Lawrie took the ball almost to the dead ball line and it looked like he was about to unleash a shot. However, he unselfishly laid a perfect ball back, and Griffiths was the beneficiary as he lashed an unstoppable volley, which had so much venom that any keeper would struggle to see it, let alone stop it! Not a classic game, not really an win ugly game either, hardly a St. Valentine's Day massacre, but it was a comprehensive performance that brought about a deserved win on the day. Chris Arcari was awarded the 'Snickers award' in absentia (for not being himself) as he usually stays for a drink after the game.
---
Final Score: Classics 2 Chilliwack 0 (1-0)
Stats
MWG: D. Lawrie
Crap Award: D. Jensen
All photographs copyright of TonyShortPhotography © - "We're not short on quality"