Surrey Classics FC v Langley Aces
Denny Ross
16th. October 2011
Weather and Conditions: Mostly foggy for the first half with sunny spells between the fog in the second half

Langley find an ace up their sleeves ..........
The Classics were looking to return to winning ways after the shock of losing their last home game to a better equipped Polonia team. The game got under way in the unusual conditions and the home side did most of the early running. Gordie Macklin was modelling the new team socks and looked resplendent in his one blue and one white sock. When questioned about the attire he was overheard to comment, "I have another pair like this at home!" It was one way traffic with Langley making the occasional break through but they were stumped when they came up to the Classics back four who were putting up a rearguard to match Custer's Last Stand. The Classics were unlucky on several occasions and a couple of efforts should have been hammered home but only the outstanding brilliance of the visiting keeper, with the aid of the posts and crossbar, kept the Aces in contention.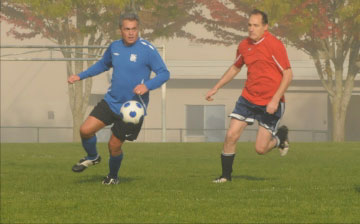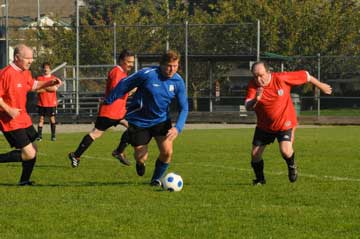 The breakthrough came midway through the first half after some neat build up play left Alfie Deglan in a shooting position. The on-fire scoring machine let loose with a devastating shot which eluded the diving effort of the keeper and sailed into the mid left side of the net to give the Classics a deserved lead. Langley responded with a harmless free kick which was easily taken by stand in keeper Dave Moore but ten minutes later they were level. Some indecision in the Classics defence left a Langley forward with the ball and his back to the goal on the 18 yard box. Moore came out of his goal, rightly or wrongly, to try to get to the ball but the forward swivelled and hit a slow, low shot which weaved its way through the remainder of the Classics defence like a snake slithering through the grass, and trickled over the line to give the Aces an equaliser.
The second half was again one way traffic with the posts and crossbar again coming to the visitors rescue on several occasions but the Aces' keeper again made some excellent saves which made him the man of the match by a long chalk. Chuck McGill almost got the winner with minutes to go but once again the crossbar got in the way of a spectacular headed winner. The Aces were delighted with their point as they were treating the game like a cup final and questioned the referee about remaining time many times as play was running to a close. Next week the Classics head off east to visit the home of Aldergrove for another encounter in a league which is significantly better and of a higher quality than of late.
Final Score: 1-1 (1-1)
Stats
GK: D. Moore
Crap Award - G. Macklin (with an honourable discharge for C. McGill)