Surrey Classics FC v Richmond Pioneers
Topham Park
2nd. November 2008
Weather: raining heavily but warm
Rosenlund rattles the Pioneers........
It was a rainy day and the Classics welcomed the Richmond Pioneers to Topham Park for a league visit. The game began and play was even until the 18th minute when Alfie Deglan competitively won the ball for the home side and then tried a speculative shot. The shot eventually fell to Doug Rosenlund, wide on the right, who snapped a spontaneous and instinctive shot which went high and to the top left hand corner of the net for a stunning goal that any goalkeeper, at any level of play, would have had difficulty in stopping. It was an inspired flash of brilliance.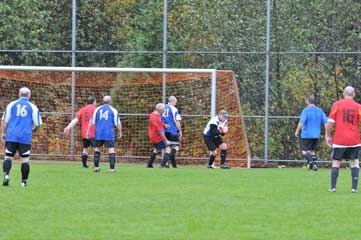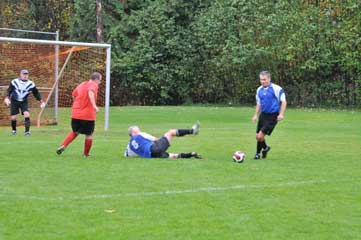 In the 25th minute of the game Jimmy Butler took off on a left wing run and then cut inside on route to goal. He was abruptly brought to ground in the penalty area with a deliberate piece of obstruction by a Pioneer's defender which the referee interpreted as an indirect free kick. Mike Snow cunningly laid a short free kick into the path of Rosenund who promply executed the shot with such precision that even the Salvation Army couldn't have saved, never mind the hapless Pioneers keeper. It was another devastating piece of clinical finishing. The teams left the field with a 2-0 half time score in favour of the Classics.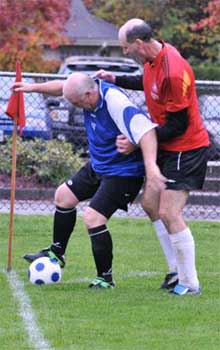 The second half was a game of end to end but the visitors were not really creating any goalworthy efforts until the 65th minute. Dave Moore had intercepted the ball in play and opted to lay the ball back for Garry Hackel. Thinking that 'The Hack' was really unreal and slightly faster than he really was, he played the ball wide of the goal. Hackel came steaming out but was left in no-man's land as the ball was intercepted by ex-Classics player Kenny Johnson who cooly lifted a shot goalwards. Rick Geary was perfectly placed on the goal-line but the lob eluded Geary and was a just hair's width above his head to successfully clear the ball away to safety. If only Geary had hair! 2-1.
Fifteen minutes from time Rosenlund received the ball on the right hand side of the field and, with the luck he had been enduring, he tried an analytical shot from some distance. Whether it was meant or not, the shot cannoned in off the far post and gave the Classics a two goal cushion, but more importantly, and secured a deserved hat-trick for Rosenlund who had been in inspired form throughout the game.
The goal effectively secured the win for the Classics but, in the last minute, Jimmy Butler blasted in his customary goal to put the icing on the cake.
Final Score 4-1 (2-0)
Stats:
MWG: Doug Rosenlund
You were crap award: Dave Moore