Peace Arch v Surrey FC Classics
South Surrey #1
21st. November 2004
Too easy for Classics over decimated Peace Arch...........


It was a very crisp and cold morning which greeted the Classics in their visit to Peace Arch. Arch were struggling to put a team together and turned up with only 9 starting players due to holidays and the like, so Hans Erker and Billy McAuley donned yellow shirts to face their team-mates in this encounter. With Garry Hackel absent, Chas Jones took the position between the sticks for the first half. Jim Eden was making his 400th. appearance for the club.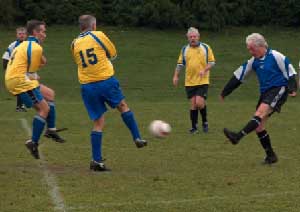 The Classics were much too strong for their decimated opponents and took the lead after 10 minutes when Chris Arcari struck a fine shot from all of 25 yards to open the scoring. It was mainly one way traffic with the mome side hardly venturing into the visitors half of the field. It was no surprise when the Classics increased the lead on the half hour. The ball fell to Chuck McGill in the penalty box who laid it back for Bruce Cook who blasted the ball home for his sixth goal of the season and one to confirm that he is the teamís current leading marksman. One minute later Ron Jennings brought a great save out of the home keeper when Cook headed on to him and his goal-bound effort was pushed onto the post.
Larry Thorlakson took over in goal from Jones for the second half. Rick Geary returned to action when he took the field for the second half and he had an early chance, but the attempt was fluffed. In the 65th. minute Geary was put through on a run and he took the ball forward and placed a delightful shot past the advancing keeper, only to have to goal disallowed for offside.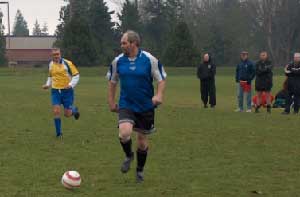 The referee got that one wrong as he was clearly a yard on-side when the ball was released to him. Three minutes later the Geary show continued when he was put through once again but on this occasion he took too much time as he tried to place his shot. Had he blasted the ball he would have surely scored.
Five minutes from time a delightful move which started from a switch from the left by Ray Marrington saw the ball work its way over to the right wing, where Cook centred the ball to Geary. Geary laid the ball off to Alf Deglan who finished powerfully for his first goal of the season.
After the game Geary thought that he had deserved at least half-a-goal for his disallowed goal but that appeal was also turned down much to his dismay and he left the after match Latvian party with his tail between his legs.
Final Score 0-3 (0-2)
Stats:
J. Eden made his 400th. appearance
MWG: C. Arcari
Club photographer: T. Short
"You Were Crap" award: J. Eden