Piast v Classics
Denny Ross
24th. Jan 2016
Conditions: Sunny and warm with blue skies

Players on duty: Judd Boxtart, Jimmy Butler, Danny Jensen, Pat Rohla, Larry Thorlakson, Gordie Macklin, David Breen, Gene Crowley, Daryl Lawrie, Bryan Griffiths, Alfie Deglan, Chris Arcari, Lorenzo Arcari, Randy Hosler, Warren Crowley, Pat O'Krane, Will Dixon.

Misses prove costly .....
If there was ever a case of a game of two halves, this was it. The first half was poor and the second half was even worse! The game started slowly and it took six minutes until the Classics had the first highlight of the game, a corner kick! By the 11th. minute the score was 1-1 (on corners, that is). On the half hour mark, Larry Thorlakson was beaten by his winger who cut into the box, only to whack the ball well wide when it looked easier to score. Thorlakson soon made amends with a strong right wing attack which almost brought a goal from his centre but it came back out to him and his second effort resulted in the visitors winning a corner. Bryan Griffiths and Willie Dixon were double substituted to be replaced by Gordie Macklin and Jimmy Butler. Unfortunately for Butler, his appearance didn't last long as he pulled a hamstring and took no further part in the match. Piast had two decent chances which they squandered so the somnambulant Sunday's first half ended at 0-0.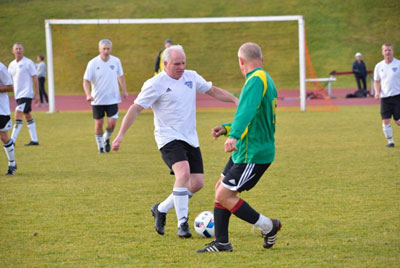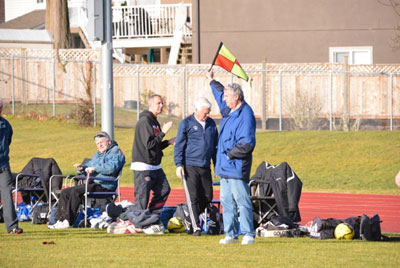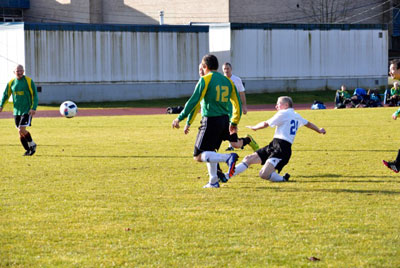 Warren Crowley could have made a name for himself early in the second half when he found himself unmarked in the box with only the keeper to beat. Unfortunately he tried to round the giant home keeper instead of hammering the ball home and failed miserably, so the name he did make for himself cannot be published on here. In the 51st. minute a good effort by Dixon was tipped over for a corner, following some creative build up play by Alfie Deglan and Danny Jensen. There was nothing between the teams and the home side packed their midfield which made the Classics have to work harder. However, it was one of those days when passes went astray and to the opposition, and the shooting was atrocious. As Tony Short was heard to remark on the sideline, "This lot couldn't score in a brothel!" Chris Arcari took one for the team in the 55th. minute after a Piast attacker bore down on goal. Arcari slid in to extricate the ball from the attackers foot. Although it wasn't intentional, it did look remarkably like a slide tacked which was punished by a free kick just outside the box.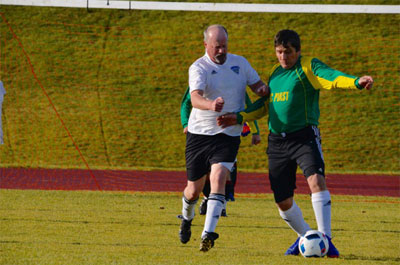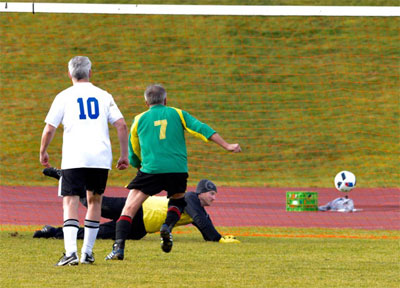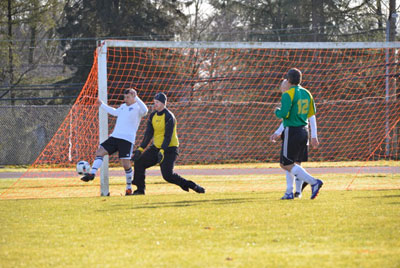 The best shot of the match from the visitors came in the 60th. minute and it came from Lorenzo Arcari, who unleashed a goalworthy effort which brought a flying save by the keeper who was at full stretch diving to his right. Pat O'Krane fell foul of the referee after a midfield tackle and was punished with a stint in the sin bin. The resultant free kick could have proved costly as it was well struck, and was curling into the bottom right corner. Judd Boxtart equalled his counterpart with a flying save which was a carbon copy of the one which had earlier prevented L. Arcari from scoring. Two worthy match-saving saves by two giant keepers, who stood out like beacons among rowing boats. With seven minutes remaining it was O'Krane's turn to fluff a shot - and he did it really well. It was another embarrassing display of how not to do it and his shot would have stopped if it had hit a wet paper bag on its way to the goalkeeper. Boxtart showed his agility a minute later when he made another good stop, which won him the unofficial 'man of the match' award. Macklin has a last gasp effort to win it thwarted when his his the last shot of the match sailed high and wide. It rounded off a poor day at the office and the Classics will need to up their game big time when they entertain their old foes, Transit, next Sunday morning.
---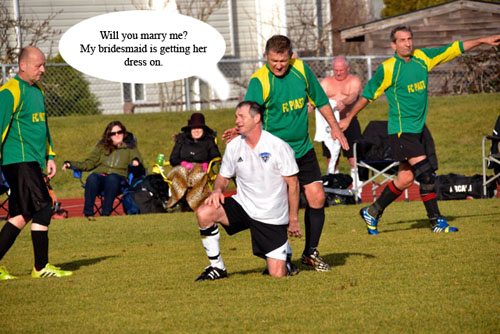 Final Score: Piast 0 Classics 0 (0-0)
Stats
Sin Bin: P. O'Krane