Classics v AKAL
Denny Ross
25th. Oct 2015
Conditions: Warm with sunny spells

Players on duty: Jim Butler, Dave Moore, Pat Rohla, Alan Massender, Gordie Macklin, Gene Crowley, Daryl Lawrie, Bryan Griffiths, Chris Arcari, Lorenzo Arcari, Randy Hosler, Sherman Foster, Robbie Keam, Warren Crowley, Rick Geary, Pat O'Krane, Will Dixon.

True grit shows.....
The Classics approached the game confidently with a bolster of late players; they had gone from just scraping a team together after midweek training to having seven substitutes, including the welcome return to duty of Rick Geary. There was a shock when the teams were announced as the linesman from last week was subbed off to be replaced by Larry Thorlakson. This follows the debacle involving the linesman and Gordie Macklin in last week's encounter, after Macklin had unjustifiably berated the linesman for no apparent reason, other than he wasn't wearing his glasses. The first attack fell to the Classics as early as the second minute from which Jimmy Butler fired wide. From the resultant dead ball kick, the visiting keeper made a complete hash of it and passed the ball directly to the feet of Butler, from which he skilfully placed a first time hit just inside the left hand post to give the homesters the lead. It is unknown whether he later handed the striker a birthday card to accompany the pass. Chris Arcari threaded a good ball through for Macklin to run on to but his effort was wide of the left post. Arcari was in the action just two minutes later when an inoffensive tackle was unduly punished with a five minute cooling-off period. The referee must have had his own set of rules as the league state that cooling-off periods should have a time frame of ten minutes!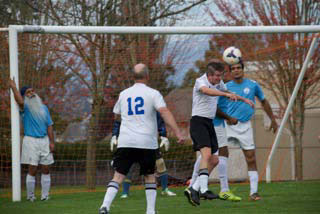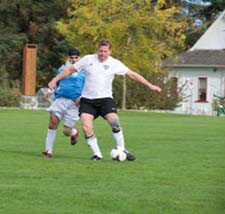 Daryl Lawrie made a break down the right in the 13th. minute but his centre was cleared away for a corner kick. On the half hour, Butler made a dash on the right flank but his cross bounced off Lawrie for a dead ball. Five minutes later AKAL put together their best attack of the match which almost brought a goal, had it not been for a great reflex save from Lorenzo Arcari who pounced to his left to knock away a dangerous header. With five minues of the half remaining, Pat O'Krane received his marching orders for persistent niggling with the referee; he also received five minutes cooling-off so, technically, he and C. Arcari share a yellow card! The score remained 1-0 at the conclusion of the half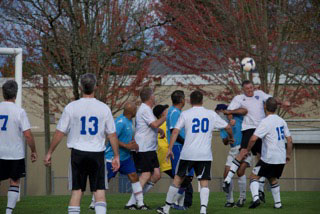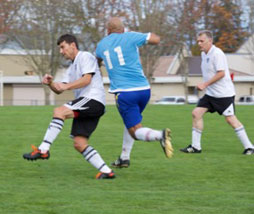 In the 62nd. minute Alan Massender put O'Krane through with a delightful ball and he took full advantage by burying it into the net with an unstoppable shot to put the home side 2-0 to the good. The third, and clinching, goal came from Lawrie but he was much too shy and embarrassed to reveal how he managed to poke it home. It was an excellent win against a team who were previously unbeaten, and full credit to all players for digging in to achieve the desired result. Another game without our regular keeper and another shut-out! Special mention has to go to Dave Moore's nutmeg as they are about as rare as rocking horse droppings!
---
Final Score: Classics 3 AKAL 0 (1-0)
Stats
GK: L. Arcari
MWG: J. Butler
Sin Bin: C. Arcari, P. O'Krane
Crap Award: R. Geary