Surrey Classics FC v Aldergrove
Denny Ross
28th. February 2010
Weather: Cloudy but warm and dry

Geary in top gear ..........
It was almost a full squad that entered the game at against Aldergrove on a warmish day at Denny Ross. The early play was evenly balanced with the better chances falling to the home side. The midfield worked hard but it was a defender who took the initiative to put the Classics in the lead. It happened in the 23rd. minute when a jinking run from his own half by Rick Geary powered him into the opposing penalty box. A neat interplay with Warren Crowley resulted in Crowley cleverly chipping the ball over to the head of Geary who powered an unstoppable header past the hapless visiting keeper. It was just reward for Geary who has been playing exceptionally well of late since he paid the money to join the Jenny Craig weight-loss programme. It must have been satisfying for the centre-back to score his first goal of the season against one of his former teams. Unfortunately the reporter had to write up the goal from hearsay and he, along with seven others on the touchline, somehow failed to witness the event.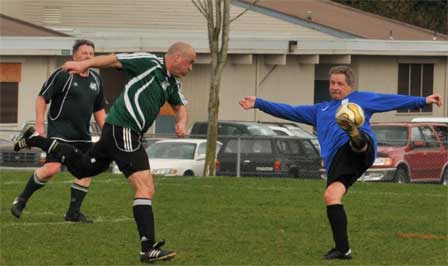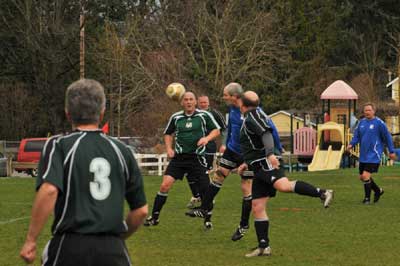 Minutes later Pat Rohla and Alan Massender both broke down with injuries and had to retire and took no further part in the game. In the 32nd minute W. Crowley robustly won the ball and released a fine pass to Gordie Macklin but his resulting shot was blocked. A similar combination five minutes later witnessed another good run from W. Crowley who centered to ball to Macklin who attempted a spectacular overhead scissor kick which was knocked away by the keeper. The stray loose ball was blasted wide by Larry Thorlakson. The slender lead remained until the half time whistle sounded.
The second half was a carbon copy of the first but without the goal. The majority of possession belonged to the home side and Aldergrove's best effort came when a shot clipped the top of the crossbar. Five minutes into the half Macklin won the ball out on the left and Gene Crowley stooped to direct a header from the low centre that the keeper scrambled away for a corner kick. The consequence of the corner was a header from Chris Arcari which was headed goalwards but was easily saved. Garry Hackel, back from injury, had a relatively easy afternoon with little to trouble him after another fine defensive display from the Classics back line.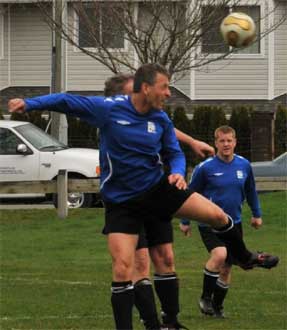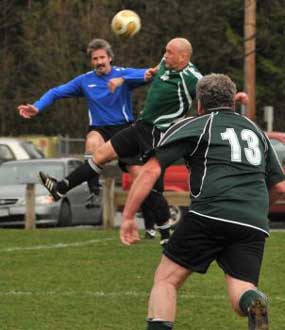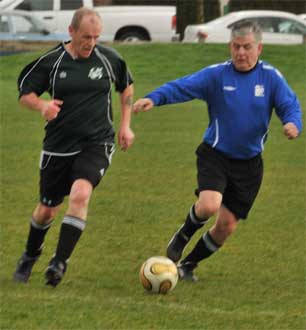 The Classics now take a two week break from action due to holidays and enforced injuries and they then return for their regularly scheduled last game of the season at home to Britannia. However, some of the postponed games have already been rearranged so players should keep an eye on the 09/10 fixture list which is being updated on an ongoing basis.
Final Score 1-0 (1-0)
Stats:
MWG: R. Geary