Surrey Classics FC v New West Regals
Topham Park
28th. September 2008
Weather: hot and sunny
Honours even........
The Classics entertained New West Regals on their new field at Topham Park. With a threadbare team including some players turning out with injuries, it took them some time to get going and, in addition, the length of the grass was hindering their usual quick passing game.
The first breakthrough in the game came in the seventh minute after Rick Geary committed a foul on the edge of the penalty area. A wall was summoned but it was reminiscent of something the three little pigs would have built if they didn't have any bricks or wood. The direct free kick went straight through the wall and left Garry Hackel flapping at thin air. The Hack is usually 'unreal' but on this occasion he appeared to be suffering from truck-lag after his long journey in to the game. 0-1 to the visitors.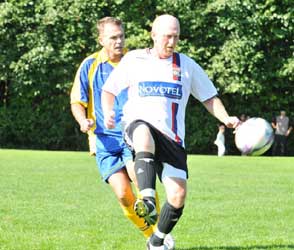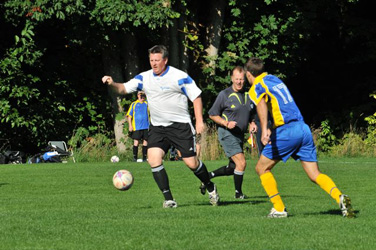 To compound matters on the quarter hour mark Doug Rosenlund, demonstrating a bad bout of untypical kamikaze defending, passed the ball directly to an unmarked Regals' player on the edge of the area. Thinking that Christmas had come early the forward easily stroked home the ball past the helpless Hackel to put the visitors two goals to the good.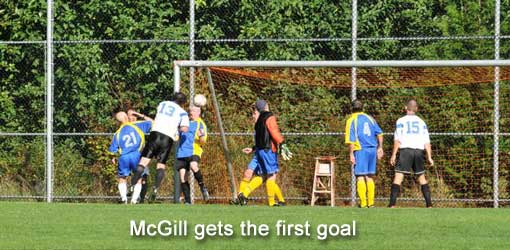 After that setback the Classics started to put their game together and had several chances but none of them were worthy of pulling a goal back. Jimmy Butler was running his socks off as usual and Paddy Rohla and Chuck McGill were doing some useful work up front. With ten minutes of the half remaining, the home side finally got off the mark when McGill headed into the net to reduce the deficit to one goal and that's how it stayed for the remainder of the first half.
The second half was mainly one way traffic with the Classics fighting to redeem themselves after an uncharacteristic first half but goalworthy chances were going as wayward as Humphrey the Whale. The Regals were doing their best to contain the Classics and were hoping to pull off a shock victory and tried to keep the majority of the play in the middle of the park. The ploy appeared to be working and time was running out. McGill picked up a yellow card after a tackle involving Dave Moore, McGill and a Regals forward resulted in the forward kissing the ground.
Alfie Deglan tested the keeper with a rasping shot which looked goalbound but the Regals goalie made a miraculous save and tipped the ball over the bar for a corner. With two minutes remaining on the egg timer, Moore sent over a left wing cross which Rohla clipped on to Butler and 'Mr. Reliable' bundled the ball over the line for a deserved equaliser. It was a relief to see the ball nestled in the net as it looked like it was going to be one of those days when constant pressure wasn't going to bring any rewards. All-in-all a good spirited fightback.
Final Score 2--2 (1-2)
Stats:
Yellow Cards: C. McGill (foul)
You were crap award: Doug Rosenlund