Surrey FC Classics v BC Transit
Newton Athletic #5
30th. January 2005
Get some WD40 on them joints...........


Well it was back to action for the first time since before Christmas and the bad weather, and it was a rusty looking Classics which started the game. With Garry Hackel off on his annual sabbatical to Mexico it was a reluctant Chas Jones who donned the gloves in what was, on paper, to be a stern test of character. The Classics could have been a goal down as early as the first minute when an uncharacteristic slip by Chuck McGill let in one of the visitors attackers with a free route to goal. Jones, surprised by his early entry into the action, slipped giving the attacker an open net. However, he fluffed the chance and the early danger passed.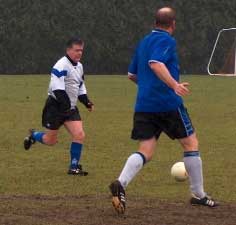 The play was open and end to end stuff with both midfields asking ang giving no quarter. Midway through the first half, Billy Ranger made a welcome return to action when he replaced Rick Geary up front and he made an immediate impact. A ball from Chris Arcari was forwarded to Ranger who neatly squared the ball to Alfie Deglan to hit hard and low for the opening goal. The remainder of the half was pretty even although the best of the chances fell to the home side but they failed to finish them off.
The second half started much the same but the burning embers of the match ignited ten minutes into the half when a high long range free kick was fumbled by Jones and a Transit attacker was on hand to punish the mistake and level the scores. Transit had a good spell of pressure but their finishing let them down. One effort rattled the crossbar enough to suggest that Jones might be having jelly for dinner but the game still could not produce another goal which would have surely won the game for either team.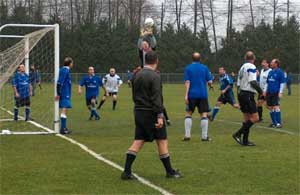 Ten minutes from the end the Classics best chance came when a direct free kick was awarded for hand-ball on the edge of the penalty box. Arcari opted to take the kick and asked for the obligatory ten yards. When the wall was set up Arcari dispatched his shot. He was however distracted and the after the game confession was, "Tony flashed me from the sideline and put me off." Needless to say, the ball sailed high and wide and instructions will doubtless be included in the next edition of the Alfie Deglan book of "Shooting Over for Dummies." In the end it was honours even in a well contested and fair match up of two good teams.
Final Score 1-1 (1-0)
Stats:
You were crap award: C. McGill