Richmond Pioneers v Surrey FC Classics
McMath #1
4th. December 2005
Activity at Ice Station Zebra........
It's always Christmas time when the Classics visit the home of the Pioneers and it's always raining or inclement in some form. This year it was no different. On a field that is about as much use as sunglasses to a one eared man, kick-off time arrived and there was no referee. These two teams met earlier in the season and again there was no ref. Is there a referees curse, or are the referees frightened of handling this encounter? Anyway, out of the mist from the corner of the field, a pair of sunglasses arrived. It was "Mr. Hollywood" himself. He rolled up with the accompanying sunglasses, a deck chair, a whistle and a knotted hankie tied around his head. I lied about the whistle! He said, "Well, I've found the beach," and the game finally got underway.
With a blustery wind and the forecast of snow the beach was remarkably soft underfoot, although it could have been harder under the top six inches of sand. The Classics started off like bulls coming out of gates and did all the early pushing but it was hard underfoot and difficult to control the ball due to the potholes and uneven playing surface. The Classics thought they had taken an early lead when Billy Ranger let rip after ten minutes. He beat keeper Gary Byrne only to see his shot rebound off the post, roll along the line, and get cleared out after a melee of players were playing footsy with each other. The ball came out to Bruce Cook on the edge of the penalty area who leathered it back towards the goal. Again Byrne was beaten but this time the ball struck the heel of a Pioneers defender and was whacked away to safety.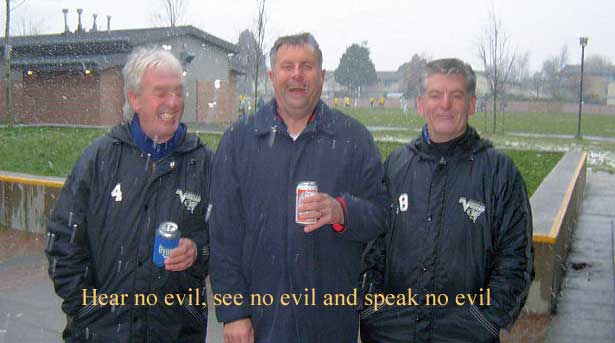 After game entertainment

Some minutes later there was a ruckus in the Classics penalty area after Evgeni Kushnir, the man with elbows like knitting needles and always doing the "birdie" dance, foolishly kicked the ball away from Garry Hackel after being given offside. Talk about a leveller, there would have been had Hackel had the speed to catch Kushnir. However, the referee calmed the situation and both players eventually kissed and made up. The remainder of the half was a non event and the referee was obviously bored so he blew the half time whistle early.

The second half was a bit of a tussle with both teams trying to get the elusive break through. Hackel had to retire injured at half time so Manny Soucker took over between the sticks, a task which is now second nature to this youngster who worked his way up through the club's youth policy. The Classics defenders were finding difficulty with movement as their boots picked up 3lbs. of cohesive sandy material with each step forward. Dave Moore was heard to comment, "I've never played a game of footy in divers boots before."

Chances fell to both teams and any goal would have won the game for either team as it had a draw or 1-0 written all over it. Doug Smith had a glorious chance to steal the glory with a match winner like he did in the last encounter between these two teams but he headed straight at Dave Valatis who gratefully stooped down to easily retrieve the ball. Cook also had a glorious chance to seal the game but he blasted well wide of the mark. With time running down it looked like both teams had settled for the draw but the last chance fell to the Pioneers in the remaining minutes. Soucker pulled out all the stops and preserved the shut out so both teams had to once again settle for a share of the spoils.

Read the alternative match report

Final Score 0-0 (0-0)

Stats: