Aldergrove v Surrey Classics FC
South Aldergrove
5th. October 2008
Weather: warm and sunny
Classics blow out Aldergrove........
The Classics travelled to Aldergrove. The last time these two teams met at that venue resulted in a 1-7 victory for the visitors, their first game after having lost their two main strikers. This game got off to a steady pace with both teams giving as good as they got. The Classics got the first breakthrough after Jimmy Butler took the ball, dribbled it for a bit and then struck a low shot into the net for the opening goal in the seventh minute.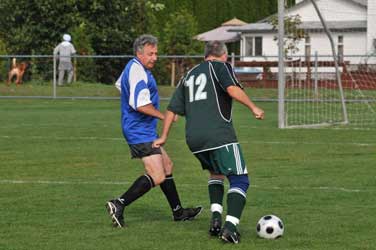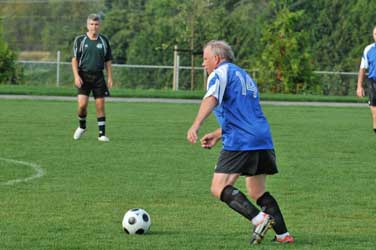 On the quarter hour mark, a foul by Dave Moore resulted in a free kick near the touch-line. The ball was centred and Rick Reagan rose to head the ball past a static Garry Hackel. The Hack later confessed that "as brilliant as he is, he failed to come for the ball" and took full responsibility for the tying goal. Ten minutes later a jinking run down the line from Chuck McGill resulted in him laying on the perfect ball for Butler to get his second goal of the game. Both teams left the field with the visitors one goal to the good.
Five minutes into the second half, that man again was looking for his hat-trick and he was dreadfully unlucky as his shot came back off the cross-bar. Al Burton was 'Johnny On The Spot' and he controlled the ball before cheekily side footing the ball with the precision of an Irish navvy to the right of the home keeper.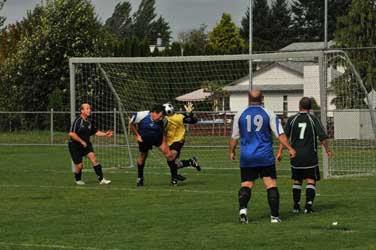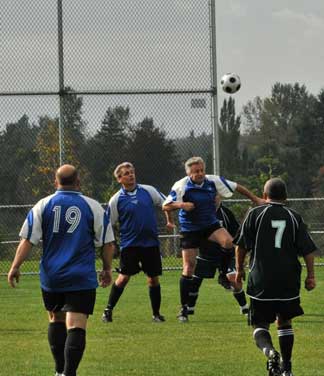 The Classics were three goals up on the hour mark after a Jim Eden special which went high to the left of the despairing keeper. With 15 minutes remaining another good ball from McGill was dummied by Chris Arcari and the ball fell delightfully for Paddy Rohla who fired in the fifth goal for the visitors.
With less than ten minutes of regulation time remaining Alfie Deglan got his name on the scoresheet after he uncharacteristically drilled a low shot wide of the keeper. He must have been falling as he actually got his body over the shot for once!
In summary, there was no positive mention of any defenders in the write-up. In reality, the whole team afterwards agreed that it was a sterling defensive display supremely marshalled by Danny Jensen. Jensen was celebrating his birthday and, having worked his way through the Classics Youth Academy, came of age and out of his apprenticeship to be offered a full-time contract with the club, a fitting reward after a resounding personal performance. The summer training camp is now starting to pay dividends as the superior fitness of the squad has resulted in ten second half goals as opposed to only three first half goals, all that in three matches!
Final Score 1--6 (1-2)
Stats:
MWG: Jimmy Butler
You were crap award: Doug Rosenlund (in absentia)