Langley Aces v Surrey Classics FC
Ron Ralph North
5th. December 2010
Weather: Sunny but cold

Classics Kings over Aces ..........
The Classics travelled to Ron Ralph to take on Langley Aces in a match which was surprisingly on in spite of the recent cold spell and subsequent thawing. It was noted that Chuck McGill had already entered into the Christmas spirit as he was sporting his long grey beard and he had cleverly stuffed packing inside his shirt so that it looked like he was fat like Father Christmas. The game got underway and it took the visitors less than five minutes to take the lead. It stemmed from a right wing break from Chris Arcari who centred and gave Alan Massender one of his simpler goals which he potted home with relative ease.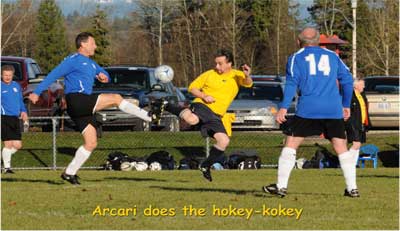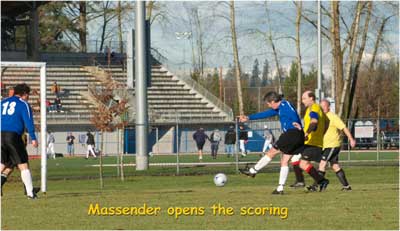 It was one way traffic and the Aces rarely troubled the Classics defence which was well marshalled by the calm, cool and collected Danny Jensen (are you reading mum?) One of the funnier moments of the half was when Dean Herbert was appealing (it's not often that he's appealing) for a foul against him but then he realised that he had stepped on his own foot so he shut up rather quickly so as not to appear a fool. The score remained at 1-0 at the half.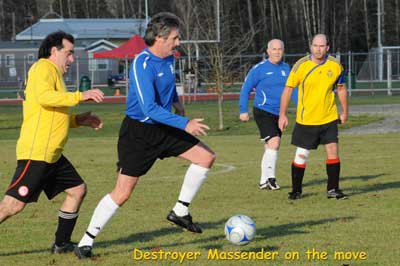 In the second half the traffic was still one way as the Classics tried to build on their slender lead. The breakthrough came in the 60th. minute after an Alfie Deglan shot was parried by the home goalkeeper. The ball fell invitingly to Massender who doesn't usually miss from that range and he duly obliged. Fisher Crockett was involved in a 'handbags at ten paces' incident with one of the Aces forwards which resulted in both players being given their marching orders for a sin-bin stint. For a while the Classics played with ten men and Crockett's absence was only noticed when the sideline observed an improvement in the standard of play so a substitute was eventually sent on.
McGill was having a good game in the right-back position but he spoiled it when he foraged forward to join the attack and executed a fine miss with his head. The game was clinched in the 78th. minute when the Classics popped in the third goal. Gordie Macklin laid a fine ball through for the 'man of the moment' Massender who completed his hat-trick and nailed the coffin lid down on the Aces. It could have been four for Massender but he blazed a shot sky high – so high that it caused a float plane to deviate from the regular flightpath and make a manoeuver that sent the Langley flight-tower into panic stations. As Langley is only a small international airport they don't have a fire engine on standby but they do have three of the cafeteria ladies who are issued with water pistols for such emergencies and they were all placed on red alert.
Final Score: 0-3 (0-1)
Stats:
GK: D. Moore, D. Herbert
MWG: A. Massender
Yellow Card: F. Crockett
You Were Crap Award: C. Arcari