Surrey Classics FC v Giant Panda
McMillan Island
9th. March 2008
Classics machine rolls on........
The Classics took on Giant Panda at McMillan Island and continued their excellent goalscoring form of late. Jimmy Butler got the show on the road with a goal in the first five minutes when he shot hard and low to the left hand side corner of the net. Minutes later it was 2-0 when an Alfie Deglan shot from the right hand side which completely deceived the Giant's goalkeeper. On the quarter hour Bill McAuley gave the home side a convincing lead when he fired home a Butler centre.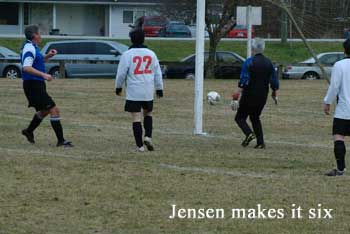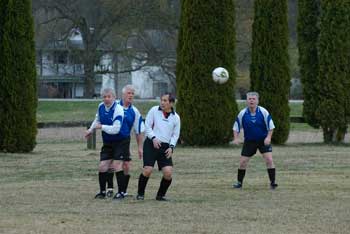 There was no holding the goal-scoring machine at this stage and on the 22nd. minute mark it was 4-0 when Paddy Rohla calmly walked round the keeper to slide the ball home. On the half hour mark, it was Butler doing the damage yet again when he went on a break-away to finish in fine style. At this stage it was getting scarey that the Classics might go on to run up a cricket score against their never give in opponents.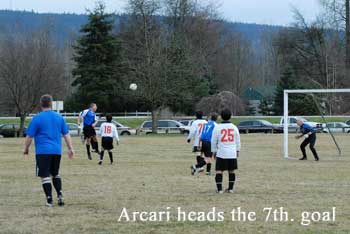 However the giant magic panda in the sky sprinkled some Rip Van Winkle dust over the home side and for the rest of the half they slackened off their antics which meant that they left the field with a 5-0 half time score. In the second half, the Winkle effect continued for the first 15 minutes. Doug Roesenlund caught a bit of McGill disease and went into falling down mode with some similar effects on the peaceful local environment. Giant Panda pulled back a goal and hit a crossbar to give them some respectability but the relentless search for more goals was rekindled and in the 65th. minute a Rohla cross was knocked into the net off the shin of Danny Jensen to make it 6-1. The icing on the cake came 20 minutes from the end when a Rosenlund centre was deftly headed low to the left of the keeper by Chris Arcari.
Since New Year the Classics have scored 34 goals in six games, a remarkable feat considering that they lost two of their main strikers at Christmas. It was noticable how fatigued both Chuck McGill and Rick Geary looked after today's game? I suppose it can be explained by the fact that they didn't get sent off this weekend and had to play the same amount as everyone else!
Final Score 7-1 (5-0)
Stats:
MWG: Alfie Deglan
You were crap award: Jimmy Butler